The perfect denture solution for you!
At Crown Dental Group, our flexible partial dentures are a natural-looking solution for those who have lost some of their teeth. They are durable and long lasting, but also thin, bendable, comfortable and convenient.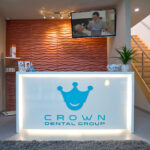 The Benefits of Flexible Dentures
The benefit of having a flexible denture is that the clasping can also be made in clear or gum colour for aesthetic purposes. The flexible denture is both functional and aesthetically pleasing. When it comes to flexible dentures at Crown Dental Group, ours have a number of benefits that will leave your new smile healthy and happy. These include:
Virtually unbreakable – so no more worrying about dropping and damaging them
BPA and Monomer free – which means no dangerous chemical introduced to your body
Hypoallergenic – reducing the risk of allergic reactions
Teeth can easily be added – if you lose further teeth, patients can easily make additions to their flexible denture
Our Natural-looking Flexible Dentures
A denture that looks natural is a plus for people who are uncomfortable with the metal framework and clasps of other dentures. Flexible dentures are not only extremely thin but are also lightweight. With its wide range of colours, the nylon base can be closely matched to your gums.
The gum coloured base blends very well with your gums to make the denture nearly invisible. The base supports our high-quality denture teeth to provide you with an exceptionally natural look. Flexible dentures are designed to blend in your mouth so that the only thing that shows is your beautiful and complete smile.
Dentures from our In-House Dental Laboratory
All of our flexible dentures are produced in our in-house dental laboratory. This means that there is no additional travel to external laboratories, and turnaround times are much faster compared to other dental practices that have no on-site laboratory.
Our dental experts work closely with our technicians to ensure the quality and excellence of every denture.
Flexible Dentures in Rowville and Narre Warren, Melbourne
Are you interested in flexible dentures? Please click here to contact our experienced denture team to organise a consultation or have your questions answered.
.