Overdentures do more than just replace your missing teeth. They keep your jaw healthy and let you get the best out of your smile and bite.
Imagine you've undergone the costly process to have traditional dentures fitted to your mouth. But now you can see your jaw starting to sag, you struggle to chew your favourite foods, and more and more, you feel your dentures getting looser every day.
These are all the problems that come with traditional dentures. In comparison, overdentures provide greater function and retention when it comes to keeping your smile the best it can be.
Overdentures are designed to help preserve the surrounding bone structure of your jaw. This means you'll have a denture appliance that's made to last, remains stable in your mouth and gives you almost total chewing power. They are removable just like traditional dentures, but most importantly, overdentures remain comfortable in your mouth, day in day out.
For a limited time, we're offering 50% off our implant overdentures treatment cost. That's HALF-PRICE!
Lower implant overdentures were $20,000, NOW $10,000 (includes implants and implant overdenture)
Upper implant overdentures were $30,000, NOW $15,000 (includes implants and implant overdenture)
Don't miss out on the chance to restore your smile.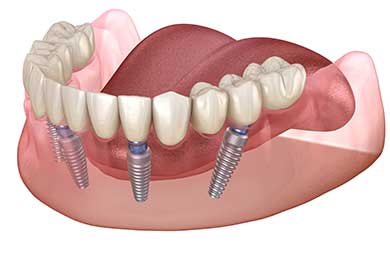 How do overdentures work?
An overdenture is a complete or partial denture that sits on top of or is attached to the underlying tooth structure. As overdentures are retained by both the natural jaw and implants instead of just adhesive, they provide far greater retention than traditional dentures.
To connect the dentures to the jaw, the dentist will place implants in the space of the missing tooth or teeth and restore them with an attachment that fits into the overdenture. For whole-mouth implant-supported overdentures, two to four of these implants are used, as well as a stabilising metal bar.


The advantages of overdentures
Eat the foods you love
Hard and chewy foods are a challenge for conventional dentures. The extra stability and pressure that your mouth has with overdentures means you can eat more of the food you love. This not only improves your quality of life but also allows you to have a more nutritious diet too.
Retain the natural shape of your jaw
Teeth help to stimulate your jaw bone through the pressure they provide. When you lose them, the jaw bone can deteriorate, leaving your jaw with a sunken look. Unlike conventional dentures, overdentures help to keep the shape of your jaw intact by applying the necessary pressure when chewing.
Say goodbye to annoying adhesives  
The retention and stability offered by overdentures is unbeatable. This means you won't have to deal with messy adhesives that barely hold conventional dentures in place.
More than a cosmetic fix
Overdentures do more than just improve the aesthetic appearance of your smile. They help secure your teeth in your mouth, improve chewing and speech functions, and prevent bone loss in your jaw. All of these factors combine to support the patient leading their best life.
Less costly than other teeth replacement options
Although the sticker cost of conventional dentures is often smaller than overdentures, because they will eventually need repairing and replacing over time, the costs add up in the long-run. As a result, overdentures end up being a much cheaper, permanent alternative.
A long-term solution
Because overdenture implants are from strong, durable material like titanium, in 99% of cases they last your entire life. This means if you take care of your dentures, you'll have a smile that lasts a lifetime.
Lighter, more comfortable fit
Implant overdentures are both thinner and smaller in shape than conventional dentures. Being U-shaped, with an extension that fits across the roof of your mouth for upper implant dentures, they feel smaller, lighter and more comfortable in your mouth! After a few weeks, most patients aren't even aware they have anything in their mouth!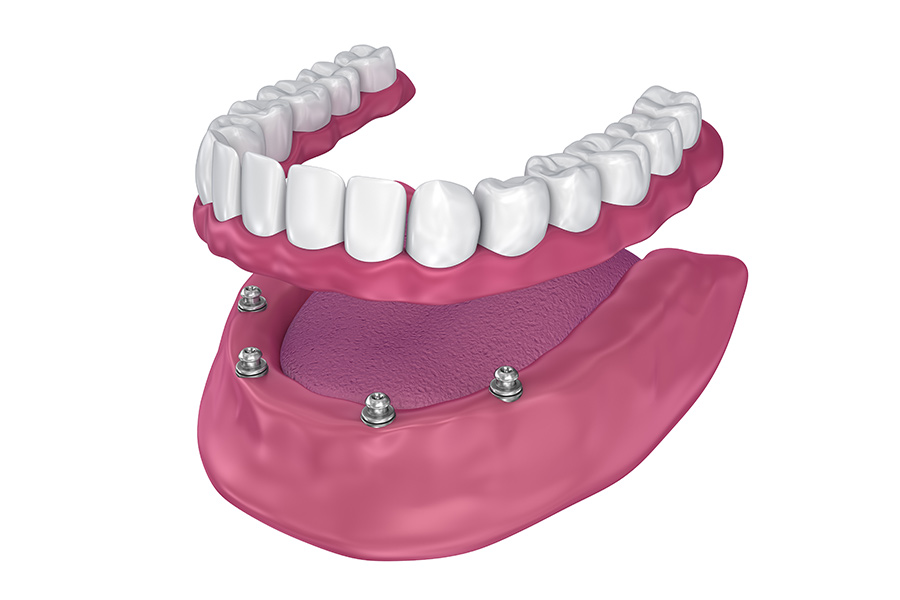 Crown Dental Group is here for you
Our team at Crown Dental Group has over 20 years of experience in delivering exceptional care. We pride ourselves on our team's ability to provide treatment to the highest quality as well as build honest, supportive long-term relationships.
Tooth replacements are one of our specialities and we use the latest technology to provide you with treatments at the forefront of our field. This allows us to create an overdenture for you that is custom-fitted to the shape of your teeth and jaw. This ensures your overdentures are truly tailored to your needs.
Terms and Conditions: This offer is limited until 30 September 2019. To qualify for this special offer, initial consultation with a dentist is required, as well as deposit to be paid prior to date of surgery. Total cost of procedure subject extensiveness of implants required.