Crooked teeth can have a big impact on your smile and confidence, and orthodontic treatment is here to help.
Orthodontics is the branch of dentistry that involves straightening teeth and realigning bite problems. It also plays an important role in managing jaw misalignment, overcrowding and cross-bites.
Whilst orthodontic treatment is primarily known for fixing issues with your teeth alignment, it can also be used to help improve your overall oral health. This is because orthodontic treatment can help prevent common dental problems like tooth decay, gum disease and more serious issues like jaw or TMJ disorders.
At Crown Dental Group, we offer a wide variety of orthodontic services for people of all ages, designed to make a crooked smile a thing of the past, whilst realigning and straightening your teeth.
Our Orthodontic Services
Our orthodontic treatments in Rowville and Narre Warren include:
Download the Orthodontics guide here!
Learn more about the orthodontic treatments offered at Crown Dental Group by downloading our orthodontics guide!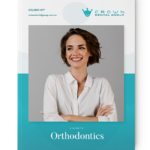 Orthodontics in Rowville and Narre Warren, Victoria
When you come into our practice, the team here at Crown Dental Group aim to ensure you feel comfortable and fully assured with your treatment and the processes involved. We want to help you achieve the smile of your dreams, whilst maintaining healthy oral practices.
If you're ready to book your appointment with Crown Dental Group or wish to make an enquiry, contact our team today.