You don't need to suffer from uncomfortable and ill-fitting devices, or worry about which foods you can eat with the many options for teeth replacement at Crown Dental Group's denture clinic in Melbourne. All devices are made in our state-of-the-art, on-site laboratory with the guidance of our dental prosthetists. We will help you achieve a functional, beautiful smile and replace missing natural teeth.
If you need emergency denture services such as a repair or reline, please call us right away on (03) 8288 1477 .
Unhappy with your dentures?
Patients often visit us after experiencing the following issues:
A look you're not happy with
A loose feeling
Biting doesn't feel right
Cheek biting
Clicking sounds when speaking or chewing
Cracking or other damage
Difficulty articulating sounds
Dislodging when opening your mouth
Excess space when biting
Food getting stuck
Pain
Pressure or sore spots on gums
If ignored, a missing tooth can quickly transpire into a range of adverse health problems, including teeth movement, tooth decay, a dissolving jawbone and more extremely, a sunken facial appearance. If you prioritise your dental health now by replacing any missing teeth you may have, you can save yourself from these devastating effects in the long term.
Download our free denture guide to explore:
Who is a candidate for dentures?
Why you should upgrade ill-fitting and low-quality dentures
Your range of denture solutions
Specifics on the most advanced denture technologies, like implant retained over dentures
Why choose Crown Dental Group
Before and Afters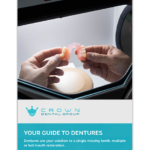 Experience absolute comfort and quality at Crown Dental Group
If you're suffering discomfort, experience difficulty eating or speaking, or simply displeased with the appearance of your device, Crown Dental Group can help you in our Melbourne denture clinics.
High quality dentures offer a comfortable, sturdy and incredibly natural-looking solution for multiple missing teeth and full mouth restoration.
Are you searching for a cost-effective, more favoured alternative to dental implants?
Thanks to modern advancements in dental technology and high-quality materials, the Crown Dental Group's range of full dentures and partial dentures in Rowville and Narre Warren may be your solution.
To find out more about the types of dentures we have available as well as which option is right for you, and to see some of our amazing before and afters – download our free guide!
Get dentures in Narre Warren and Rowville, Melbourne today
If you're interested in getting dentures and want to seek a second opinion from an appropriately qualified health practitioner, please contact our experienced team at Crown Dental Group today by clicking here.
Ask a Question or Book an Appointment
Please fill in the online enquiry form to ask a question or book an appointment. We look forwards to seeing you soon.