What are acrylic partial dentures for?
Immediate acrylic partial denture are used to replace one or more missing teeth in the upper or lower jaw. The acrylic teeth are set and attached next to the natural teeth.
The acrylic partial denture can fit closely against your gums and the remaining natural teeth. It helps prevent your natural teeth from shifting out of position so you can bite and chew properly and provide you with a beautiful smile.
Benefits of Acrylic Partial Denture
A comfortable affordable option
Custom-made for a great fit
Quick and easy to make
Easy to modify, such as adding teeth or relining
Easiest to take in and out
Download our free denture guide to explore:
Who is a candidate for dentures?
Why you should upgrade ill-fitting and low-quality dentures
Your range of denture solutions
Specifics on the most advanced denture technologies, like implant retained over dentures
Why choose Crown Dental Group
Before and Afters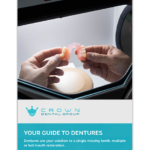 Our comfortable to wear and natural-looking partial dentures
All our dentures are fabricated on site; thus, any adjustments and modifications can be finished very quickly to obtain the perfect fit.
When it comes to the quality of our denture teeth, using the best quality material is the key to make the denture teeth look incredibly lifelike. In addition, our expert dental technicians can arrange your denture teeth in order to closely replicate your own teeth, avoiding an unnatural look.
Are acrylic partial dentures right for you?
Opting for an acrylic partial denture depends on your preference and this could be the right restorative option if:
You have lost teeth and need an acrylic partial denture as a quick solution to missing teeth.
You are looking for a more affordable type of denture, or if it is your very first time to wear dentures.
You are in need of a partial denture to stabilise the remaining teeth.
Dentures from our in-house dental laboratory
All our dentures are fabricated at our in-house dental laboratory. This means that there is no additional travel to external laboratories, and turnaround times are much faster compared to other dental practices that have no on-site laboratory.
Our dental experts work closely with our technicians to ensure the quality and excellence of every denture. Any repairs or relines can be done on the same day.
Acrylic partial dentures in Rowville and Narre Warren, Melbourne
Contact the expert immediate denture team at Crown Dental Group to find out more information on acrylic partial dentures and come in for a consultation.
Ask a Question or Book an Appointment
Please fill in the online enquiry form to ask a question or book an appointment. We look forwards to seeing you soon.