What are cobalt chrome dentures?
Cobalt chrome dentures are an excellent feature for those who want to wear a less bulky denture. Chrome dentures are also the most hygienic since they are less porous than acrylic, accumulating less plaque and tartar.
A cobalt chrome metal denture has a combination of cobalt and chrome that is used to prevent corrosion. The metal is strong and light, making the denture much thinner and more comfortable to wear. This type of denture is particularly ideal for patients who may often damage their conventional dentures.
The cobalt chrome is obscured when you talk or smile. In addition, the important parts of the metal denture will be covered with a gum coloured acrylic. Cobalt chrome has many advantages to offer. Aside from being extremely tough, it is also less bulky and less porous than other types of dentures.
Download our free denture guide to explore:
Who is a candidate for dentures?
Why you should upgrade ill-fitting and low-quality dentures
Your range of denture solutions
Specifics on the most advanced denture technologies, like implant retained over dentures
Why choose Crown Dental Group
Before and Afters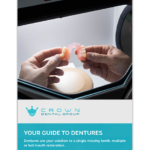 Why should I get a Cobalt Chrome Denture?
Unlike acrylic dentures, chrome dentures have a much thinner framework behind the teeth, and clasps are often incorporated to fasten the denture to natural teeth. With this, the denture tends to be more comfortable and secure compared to acrylic dentures. The benefits of a cobalt chrome denture include:
Comfortable to wear
Very close fitting
More fracture-resistant
Durable
Offers great chewing experience
Smaller and thinner
Easier oral hygiene
Clasps can be easily tightened to augment the grip
Designed specifically to your mouth
Our Cobalt Chrome Denture
With our cobalt chrome dentures, the metal framework is almost unnoticeable. The cobalt chrome is unobtrusive when you talk or smile. You will only see the metal framework when you remove the denture for cleaning. All the essential parts of the cobalt chrome denture will still be covered with a gum-coloured acrylic to ensure a natural look.
Dentures From our In-House Dental Laboratory
All our dentures are fabricated at our in-house dental laboratory. This means that there is no additional travel to external laboratories, and turnaround times are much faster compared to other dental practices that have no on-site laboratory. Our dental experts work closely with our technicians to ensure the quality and excellence of every denture. Any repairs or relines can be done on the same day.
Cobalt chrome dentures in Rowville and Narre Warren, Melbourne
Are you interested in cobalt chrome dentures? Contact the friendly team at Crown Dental Group by clicking here to book in for a consultation or to ask any questions.
Ask a Question or Book an Appointment
Please fill in the online enquiry form to ask a question or book an appointment. We look forwards to seeing you soon.