Your complete denture will have a natural gum-coloured acrylic base plate that supports the replacement teeth. The base plate comfortably fits over the gums and the design provides maximum retention. A lower denture is constructed in a horseshoe form, which covers the bony ridge used in supporting your natural teeth. An upper denture will cover the top palate to help offer good retention.
Download our free denture guide to explore:
Who is a candidate for dentures?
Why you should upgrade ill-fitting and low-quality dentures
Your range of denture solutions
Specifics on the most advanced denture technologies, like implant retained over dentures
Why choose Crown Dental Group
Before and Afters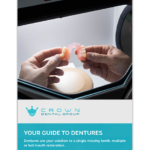 How are full dentures made?
It usually takes about 7-10 days from your initial consultation to develop your full dentures. Your dental prosthetist will:
Take impressions and measurements of your mouth
Create a wax model of your denture to ensure the best fit, colour and shape
Build your full acrylic denture at our on-site dental laboratory
Make small in-chair adjustments as required
Eat and speak normally with your complete dentures
Your dental team at Crown Dental Group will provide you with substantial tips and guidelines on how to get used to speaking and eating throughout the first few weeks of wearing your denture, especially if you have both the upper and lower dentures.
As you become more accustomed to wearing your full denture, you will be able to eat the foods you want, from softer kinds to harder ones. Our skilled dental team is here to offer practical help to make sure that your dentures are a success.
To learn more about our high-quality dentures, book a free denture consultation with a dental prosthetist at Crown Dental Group.
Dentures from our in-house laboratory
All our dentures are fabricated at our in-house dental laboratory. This means that there is no additional travel to external laboratories, and turnaround times are much faster compared to other dental practices that have no on-site laboratory.
Our on-site dental laboratory fabricates your dentures using the Heraeus injection technique which limits the expansion of the acrylic so your dentures fit more accurately. Our dental experts work closely with our technicians to ensure the quality and excellence of every denture.
Premium or standard dentures – the difference
At Crown Dental Group, we understand that natural, comfortable dentures often mean more to a person than just an improved smile. But we also understand that people have different budgets and needs. That's why we offer both premium and standard full dentures, so that no matter what, we've got a solution for every patient.
Standard Complete Dentures
Standard dentures Rowville are the most affordable form of dentures and are popular for patients looking to restore their smile quickly. With standard dentures, the material they are made from, and the shapes/moulds they come in are more limited compared to premium dentures. This means, compared to premium dentures, they are more likely to wear down faster and need to be replaced more often.
Nevertheless, standard dentures are an appropriate, budget level option for people looking for a quick and functional restoration.
Premium Dentures
Premium dentures are similar to standard dentures, albeit made with greater precision techniques and higher-grade material for the teeth. These alterations mean that premium dentures take longer to fabricate than standard dentures, however, they will have a greater fit and last much longer
Premium dentures are fabricated in such a way that we are better able to adjust their fit too. This means adjustments can be made to match the natural movements of each patient's jaw and ensure they are fitted for each patient's unique bite.
In addition, premium dentures maximise the patient's speech ability and aesthetics. Some of the more tangible benefits of premium dentures include:
Natural aesthetic, with dentures designed to look like real teeth
Better fit helps to reduce micro-parasites that can cause infection
High impact strength, as well as fracture resistant, meaning greater "chew" factor
Long term colour durability
Complete (full) dentures in Rowville and Narre Warren, Melbourne
If you would like to book in for a consultation to discuss getting complete (full) dentures, then please contact our friendly and experienced team by clicking here.
Ask a Question or Book an Appointment
Please fill in the online enquiry form to ask a question or book an appointment. We look forwards to seeing you soon.