Restore your smile with implant dentures
At Crown Dental Group we offer you the opportunity to ditch the old-fashioned dentures and restore your smile with our contemporary implant denture solution.
Not only are our implant dentures a permanent solution, they are also a more convenient solution than removable dentures for a full mouth restoration. From eating certain foods you love to improving your speech, our implant dentures are designed to make your life easier in every way.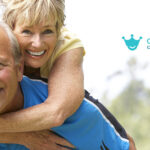 We're with you every step of the way
At Crown Dental Group's Rowville & Narre Warren practices, we play host to a state of the art denture clinic and dental lab. This means that your treatment from start to finish is all handled by our trustworthy dental professionals in house, and you can save time due to the fact our dentures take less time to produce.
Download the Implant Dentures guide here!
Learn more about the implant denture treatments we offer at Crown Dental Group by downloading our guide!