A frenectomy, also known as a frenulectomy, is a minor surgical procedure often performed to treat a lip or tongue tie. During a frenectomy procedure, a dental surgeon excises or repositions a frenum (also known as a frenulum) to extend it and allow normal movement within the mouth. The frenum is a muscle attachment that restricts movement of the lip and tongue. The human body contains a vast amount of these small ligaments that regulate the movement of various organs or muscle groups. This procedure is typically performed on young children, though can be performed on anyone.
Multiple frenums exist within the mouth, and if one of these bands of tissue is too short or too tight, it can cause oral health issues and negatively impact speech. In babies, it also affects breastfeeding and swallowing as they are unable to create an efficient vacuum seal.
Frenectomy procedures in Rowville and Narre Warren
Generally, there are two different types of frenulum in the mouth which can be altered by a dental professional, the labial frenulum and lingual frenulum. Altering these frenums fix lip and tongue ties respectively.
Lip tie correction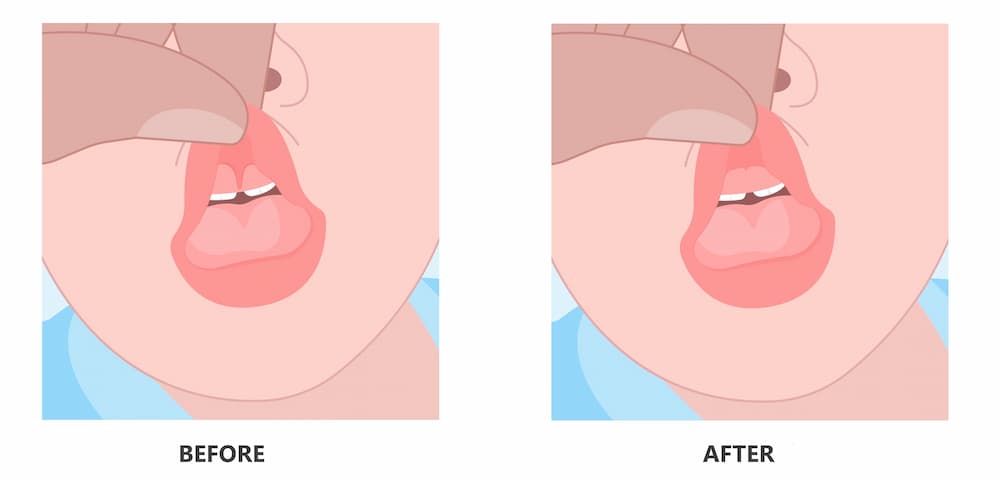 This procedure involves the alteration of the upper/lower labial frenum. The upper labial frenum is a ligament that attaches the muscles of the upper lip from the inner mucosa to the gums above the upper central teeth. When this attachment is high (occasionally running in between the two upper front teeth) it is known as a lip tie.
In an upper lip tie frenectomy, the procedure involves repositioning the upper labial frenum which is responsible for connecting the lip to the gums.
Tongue tie correction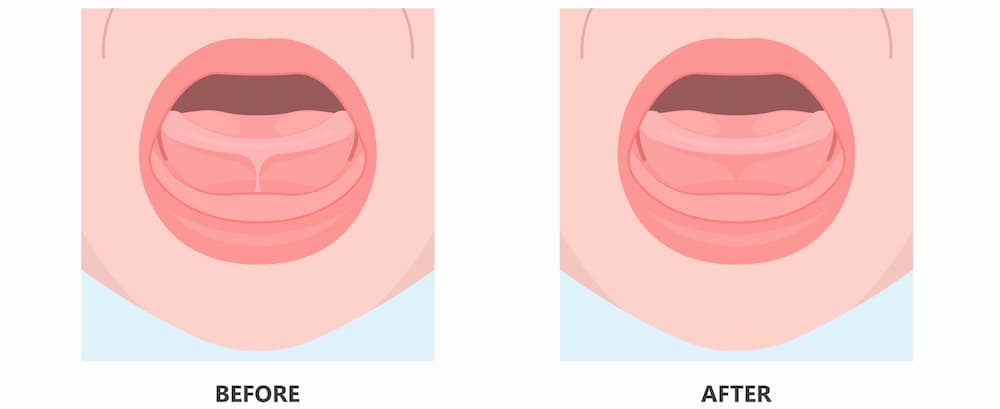 The lingual frenum is a part of a complex structure of ligaments which essentially attach the tongue to the floor of the mouth and the lower jaw. When the attachment of the tongue is close to the lower central teeth, this results in a condition known as ankyloglossia or being tongue tied.
When this occurs, the movement of the tongue is restricted and is unable to move fully. Therefore, function will be reduced as a result. As a result, our dentist is able to target, reposition or excise the lingual frenum during a frenectomy procedure to create more movement.
What to expect
For the procedure, your baby or child will be seated on your lap, and a numbing cream will be applied before the procedure takes place. A soft tissue diode laser is then used to perform the procedure quickly and painlessly.
After this simple procedure, the baby will be able to feed immediately, there is very minimal bleeding and they will heal quickly.
The healing process
After your child or baby has a tongue tie and/or lip tie released, the results are normally apparent quite quickly, though in some cases may not be immediately apparent. The time it takes for improvement to show may take some time as the child learns how to use their tongue in an effective manner.
In most cases, the patient generally only experiences minimal discomfort for the first 1-2 days after the procedure occurs, and natural breastfeeding and skin to skin contact provides natural pain relief. If your baby is uncomfortable, Panadol can be given to assist with discomfort. If you are unsure on what dosage to give your baby, please speak to your dentist or a medical professional. Products containing benzocaine (such as baby orajel) should not be used.
In some cases, a baby's nappy may contain dark streaks of blood in the 24 hours following the procedure. This is not a cause for concern, as this is due to the fact they may swallow blood during the procedure. If this persists, please contact a doctor.
As a laser is used, there is a small chance the child may receive burns on the lips or tongue showing as small white areas, although every effort is made to avoid this. These burns, should they occur, will heal quickly.
In some cases babies may refuse to feed for a short period of time in the first day after the procedure, though this should resolve as it is a byproduct of discomfort. If this continues or you have concerns, please contact your lactation consultant or a doctor.
Frenectomy Narre Warren & Rowville
Crown Dental Group is able to offer frenectomy procedures in the Narre Warren & Rowville dental clinic.
Aside from performing frenectomies, Crown Dental Group's Rowville and Narre Warren practices play host to a vast range of dental treatments, and a state of the art dental lab and denture clinic. To find out more about the dental care offered at our practices, click here.
To book an appointment, please contact our practice today.
Ask a Question or Book an Appointment
Please fill in the online enquiry form to ask a question or book an appointment. We look forwards to seeing you soon.